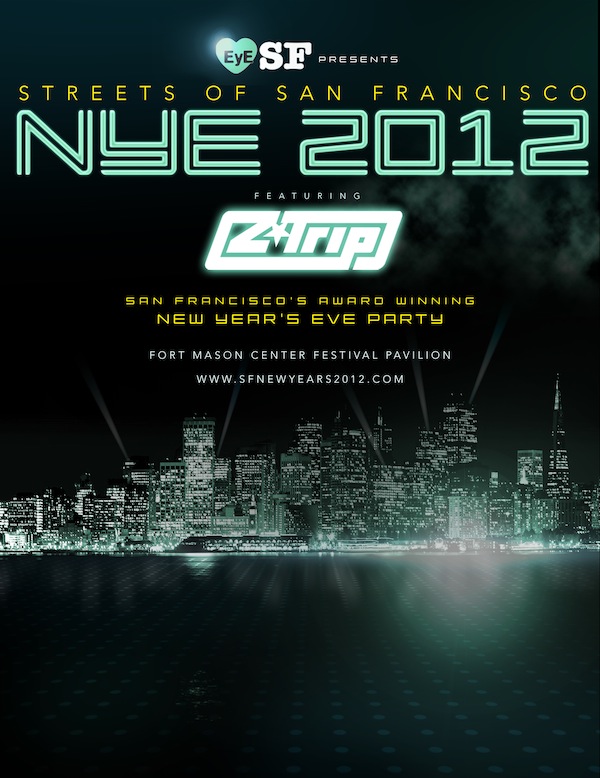 EyeHeartSF presentsSTREETS OF SAN FRANCISCO
NYE 2012 with Z-TRIP & CRAZE
The 2012 Streets of San Francisco New Years Eve (NYE) explores the theme of "Back To the Future." Join EyeHeartSF as we transform the Festival Pavilion into a playground of future sights, lights, and sounds, imagining what our "city by the bay" might look like many decades from the present day.
Streets of SF NYE features a premium hosted bar from 9:00 p.m.-2:00 a.m. for all guests, the largest bar staff of any NYE party in the Bay Area, and the best bartender-to-guest ratio anywhere. Beyond the unmatched bar service and trendsetting crowd, the event space is famously transformed and boasts panoramic views of the entire Bay from Alcatraz to the Golden Gate bridge, front row seats to the fireworks shows, signature midnight champagne toast, and a special headlining set this year from legendary live-performance DJ and producer Z-TRIP and DJ Craze. 21 years and older only.
Saturday, December 31, 2011 at 9:00 PM
Fort Mason Center, Festival Pavilion
Marina Boulevard at Buchanan Street
San Francisco, CA 94123
$150-$175
VIP Upgrade: $50-$75 (in addition to ticket price)
More Information: www.crawlsf.com, www.eyeheartsf.com & Facebook
Buy Tickets: streetsofsfnye.eventbrite.com
Leave a comment
No comments yet.