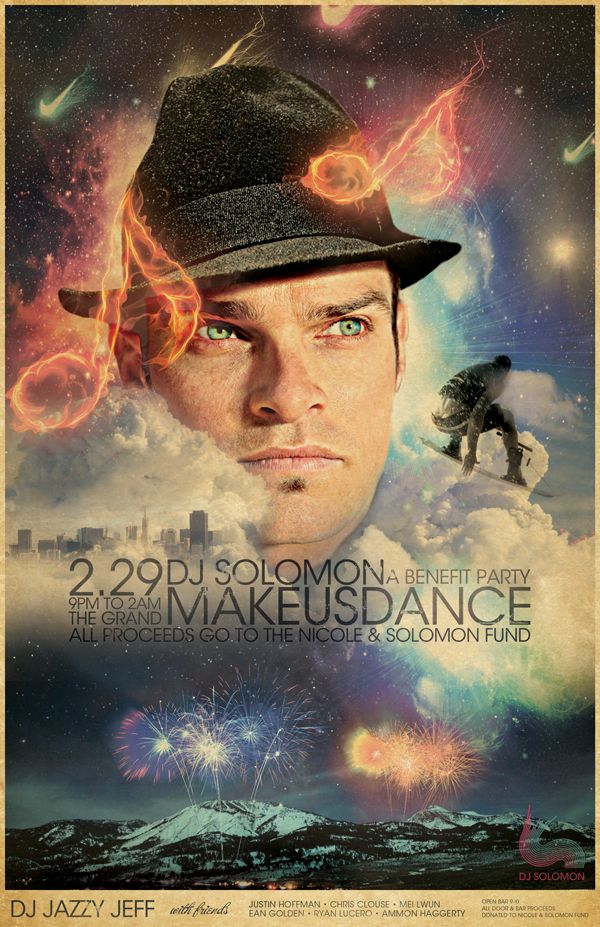 *** 9-10 is open bar and Chris Clouse, Ryan Lucero + Zhaldee will be doing a rare all-live Dj Solomon Tribute covering material they used to play together. Please arrive early.
—– EVENT INFO —–
DJ Solomon, one of San Francisco's most well known and respected deejays, was taken from us in a tragic accident in Thailand just a few weeks ago. He touched the lives of so many people and we would like to invite you to celebrate his life on Wednesday, February 29th at The Grand Nightclub. All proceeds (including bar sales)* from the event will go to the Nicole and Solomon fund.
— Featuring music by some of Solomon's closest friends as well as a performance by a SPECIAL GUEST…
This event will feature an open bar from 9PM to 10PM and a silent auction.
*TICKETS AVAILABLE NOW (please purchase here):
http://www.eventbrite.com/event/2974676337/efblike
*SILENT AUCTION: 8-10:30PM
See below and/or click here to see latest item list:
https://sites.google.com/site/djsolomonbenefitevent/portfolio
Musical Lineup:
*SPECIAL GUEST
Justin Hoffman
Chris Clouse
Mei Lwun
Ean Golden
Ryan Lucero
Ammon Haggerty
Don Lynch
***********************
If you cannot attend the event or would like to donate more, Please visit the following to donate directly to the Fund:
https://www.wepay.com/x2u3itk/donations/solomon-and-nicole
***********************
SILENT AUCTION: We are asking you to join in an amazing opportunity to help out by bidding on the following list of donated items:
Here is an overview of confirmed items ..
• One week stay at a condo in Maui
• Signed snowboard from Shawn White
• Giants tickets/memorabilia including: Opening Day Tickets | VIP Field Access | Lower Box Tickets | Signed Willie Mays Baseball | Will Clark Signed Baseball/Blanket/Photos | Signed Pablo Sandoval Bat/Baseball | Signed Buster Posey Jersey
• An amazing amount of Burton, Nike, Skullcandy Products
• 2012 Hyperlite Wakeboard and Wakesurf boards
• $500 Certificate to prepare your car for the track from Suspension Performance, driving lessons, Ferrari driving experience
• Great DJ gear from Rane/Serato/DJ TechTools
• Professional Skater Memorabilia
• High Profile Band Memorabilia
• Ruby Skye Table / Bottles for 6 of their biggest events
• Lots of Gift Certificates from local SF restaurants
• Yoga Classes | Ballet Tickets | Wine Tours | High end Poker Table | Orginal Art work | Cooking classes | Life Coaching | Culturual Classes | and much much more!
Just Added:
• $100 Gift Certificate to Aventine
• Power broker Lunch with Former Mayor Willie Brown at Aventine
• Get to know SF DA Lunch with George Gascon at Aventine
• Night on the town in Hollywood. $100 gift certificate to Aventine Hollywood and a comped bottle of Vodka at AV Nightclub.