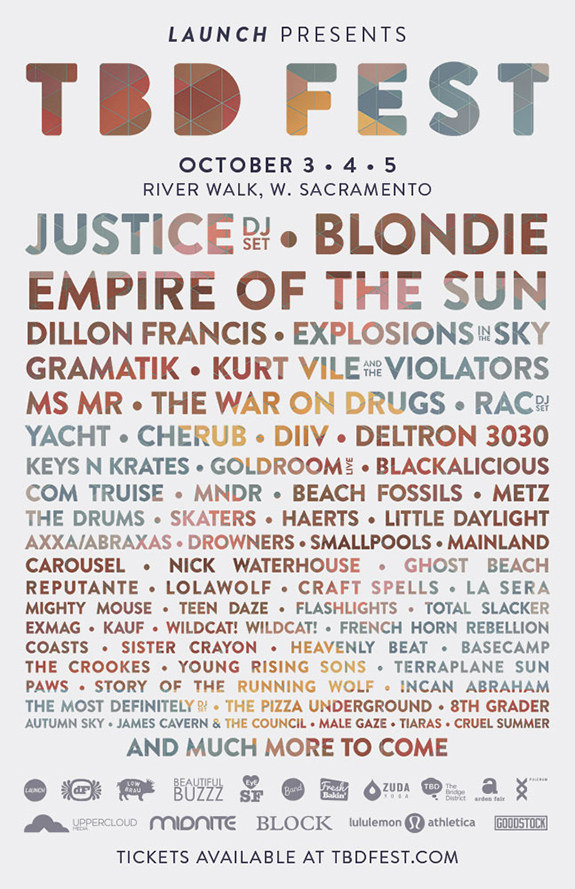 Launch Presents TBA Fest
October 3, 4 & 5, 2014
The Bridge District
Riverfront Street


West Sacramento

, 

CA

 95691

Launch was founded in 2007 by Michael Hargis as a one-day celebration of Sacramento's creative community. For four years the event took place at the Greens Hotel and was curated by some of the brightest artists in and around the Sacramento Region to showcase their peers and introduce the audience to emerging local, regional and national talent through music, art, fashion, architecture and other creative mediums. The event was truly ahead of its time.In 2012, Michael Hargis and Clay Nutting saw an opportunity to grow the festival from a one-day event at one location, to a city-wide, multi-venue, week-long activation that culminated in a large scale music festival designed to rival the best festivals in the Country with performances by DJ Shadow, The Joy Formidable, Group Love, Future Islands, !!! and Chromeo.
The following year, they doubled down and the festival grew from one-major music festival day to two. The bookings included: Surfer Blood, Geographer, Grieves, Minus the Bear, Cults, Doomtree, Washed Out, Van She, St. Lucia, Girl Talk, Blonde Redhead and Imagine Dragons.
What was and remains completely unique about this festival, is the focus on bringing emerging, but Nationally relevant talent to Sacramento while still maintaining the independent spirit and creative ethos of prior years. This is a feat that is often attempted, but never replicated. There is no substitution for authenticity.Since our humble beginnings, Launch has grown into one of the largest music festivals in Northern California and like SXSW, Governors Ball, Fun Fun Fun and other similar festivals, these events are much more than a multi-day concert, they are a cultural phenomenon with substantial economic, civic and brand impact.
This year all the chips are on the table. The event is once again expanding (from two days to three days) with genre-defining talent that will turn Launch on its head.
And that is exactly what they set out to do. The goal is to redefine the conventional music festival model and view Launch from an entirely new paradigm.