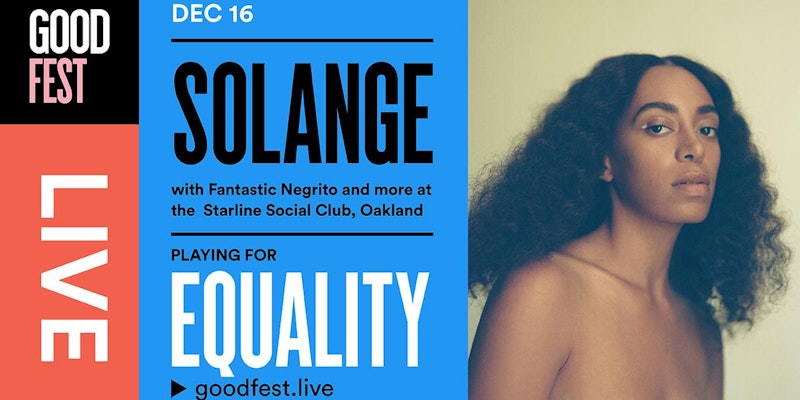 GOODFest. 5 Shows. 5 Cities. 5 Causes.
This December 16th, GOODFest arrives in Oakland, CA for their fourth show, featuring a special line-up of artists playing for EQUALITY. Solange will play a trio of songs selected from her new album A Seat At The Table at the Starline Social Club. The evening will feature an opening performance by Fantastic Negrito in addition to performances from local artists.
All proceeds from ticket sales will benefit the Ella Baker Center and Son of a Saint, two nonprofits dedicated to creating more equal opportunities for everyone.
GOODFest is a first-of-its-kind livestream festival for good — created by GOOD and presented by Pixel, a phone by Google. In five livestreamed shows, they're bringing together music, community, and technology to raise funds and connect people in the name of good. Come out – or stay in and livestream – for a night of unforgettable performances, and let's keep moving the needle for good.
This event is 21 and over.
ALSO – We will be releasing 50 tickets per day! So check back if they are not available!
—————————
Schedule
—————————
6:30 PM DOORS + COCKTAIL HOUR (cash bar)
7:30 PM SHOW STARTS
—————————
Featuring
—————————
Musical performance by Solange and Fantastic Negrito
Performances by local artists
—————————
Ella Baker Center
—————————
Half of ticket proceeds will benefit the Ella Baker Center in Oakland.
The Ella Baker Center organizes with Black, Brown, and low-income people to channel resources that promote healing and opportunity to the communities most harmed by policing and prisons. We are named after Ella Baker, a brilliant, Black hero of the civil rights movement who believed in the power of everyday people to win change.
—————————
Son of a Saint
—————————
Half of ticket proceeds will benefit Son of a Saint, based in Louisiana.
Son of a Saint exists to enhance the lives of fatherless boys through mentorship, emotional support, development of life skills, exposure to constructive experiences and formation of positive, lasting peer-to-peer relationships.
—————————
About GOODFest
—————————
Each show will be livestreamed on YouTube and Facebook Live and viewers will be able to watch – and give – from the comfort of their homes.
YouTube: www.youtube.com/GOOD
Facebook: www.facebook.com/GOODHQ
IMPORTANT NOTE TO ATTENDEES:
Please be advised: By purchasing this ticket(s) you agree to these Release terms: I acknowledge that filming and photography will take place during the GOODFest Event I am attending for GOOD INC and its licensees and assigns. By being present at the Event I consent to being filmed and/or recorded. I also agree not to assert any moral (or similar) rights and give all necessary consents under the Copyright Designs and Patents Act 1988 (as amended) and all other applicable legislation in respect of any film and/or recordings. I agree to allow unrestricted permission, right and perpetual license to use my name, voice and likeness to make still and motion pictures of me and sound recordings of my voice and to reproduce, exhibit, broadcast, perform, advertise and exploit all or any part thereof, in and by any media now known or hereafter developed, throughout the entire world for any audiovisual work that may be created from the footage taken at this Event. I hereby release any and all claims, liability, actions or demands whatsoever in connection with the use of the Materials or the Work created within.
Tickets are nonrefundable.
Leave a comment
No comments yet.