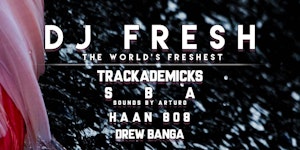 SOUNDS BY ARTURO & F8 NIGHTCLUB PRESENT:
BAY AREA LEGEND AND SUPER PRODUCER
DJ.FRESH
SUPPORT BY:
TRACKADEMICKS
SOUNDSBYARTURO
HAAN808
DREW BANGA
BAY AREA!
Don't miss out on this crazy line up of local legends and super producers. If you do not know about these guys on the bill, then here's your chance to familiarize yourself with these amazing preformers! We're excited to feature DJ FRESH, also known as 'The World's Freshest' and founder of his infamous series The Tonite Show.
TRACKADEMICKS has been coming out with bangers since the hyphy-era and is most famously recongnized for his hit remix of 'Tell Me When to Go' by E-40.
 DREW BANGA, hailing from OAKLAND, CA, has been on a rampage of hits lately, from his super-group with MIKOS DA GAWD called LIL DADS new single called 'IDK' to his Billboard Top 20 hit 'I'm On' by KAMAIYAH.
Hailing from Auckland, New Zealand, HAAN808 is blessing us with a special appearance during his North American expenditure. Alongside all these super producers
And, last but not least, ARTURO aka SOUNDSBYARTURO is a SF based DJ that plays some of the most crackin' events known to the bay. ARTURO has recently teamed up with Soulection's own ABJO to form their party-duo #FLVRS whom has played alongside the likes of LAKIM, GRAVEZ, and many others. ARTURO also joins F8 twice a month alongside San Francisco's own THE CANDYRAIN
FRIDAY FEBUARY 10TH/ 10PM-2AM/ 21+
RSVP FREE BEFORE 11. $5 PRESALE TICKETS
F8 Nightclub & Bar
1192 Folsom Street
San Francisco, CA 94103
Leave a comment
No comments yet.