Posts Tagged 'Marcus Lee
Saturday, April 2, 2022
Funhouse Music & Food Festival
Guapdad 4000, Señor Sisig & More!
12pm
District Six, San Francisco
Categories: Benefit, Club/Lounge Events and San Francisco
Tags: 1015 Folsom, Adam Vida, Apollo, Aux Cord, Boogie Brown, Cutso, Deejay Theory, DJ Baysik, DJ D-Sharp, DJ Franchise, Enki, Illefect, Kawasaki, Kid Dee, Kool Raul, Mackswell, Malachi Padron, Marcus Lee, Mind Motion, Mr Lucky, Mr. Carmack, Mr. E, Neo Geo, Platurn, Prince Aries, Ren the Vinyl Archaeologist, Royce, San Francisco, Scotty Fox, Sean G, Shortkut, Umami, White Mike, Wonway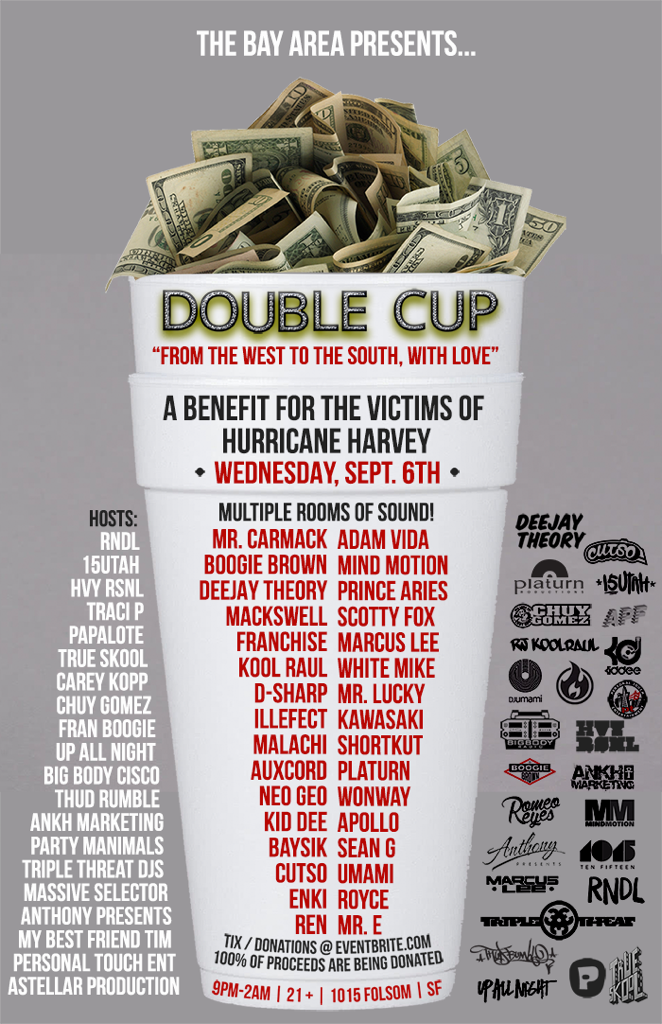 Wednesday September 6th / 9PM – 2AM / 21+
The Bay Area presents
DOUBLE CUP:
A Benefit For The Victims of Hurricane Harvey
Performances from
MR. CARMACK
ADAM VIDA
+ more!
100% OF ALL DONATIONS & TICKETS WILL BE DONATED
We will be donating to
Houston Immigration Services
http://www.houstonimmigration.org/
Global Living Hurricane Relief Fund
https://www.globalgiving.org/projects/hurricane-harvey-relief-fund/#menu 
Undocumented immigrants are facing a lot of challenges, most of which are not seeking help in fear of deportation. I think something like that would hit close to us as we're a sanctuary city.
GlobalGiving is ranked 4 stars by Charity Navigator. Their Hurricane Harvey Relief Fund "will provide relief to survivors in the form of emergency supplies like food, water, and medicine in addition to longer-term recovery assistance to help residents recover and rebuild." So- both short term and long term help and they use the money to help local organizations.
Choose your donation amount above.
ONLY $30 Tickets come with (1) Raffle Ticket – There is no limit on amount of raffle tickets you can order.  Prizes TBA
1015 Folsom 
1015 Folsom St
San Francisco, CA 94103
---
---